Youth Cooking Classes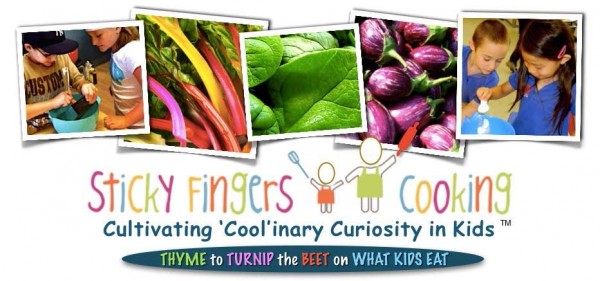 Session I:
TUESDAYS September 12 - October 24
[ 9/12, (9/19- no class), 9/26, 10/3, 10/10, (10/17 - no class), 10/24 ]
5 classes
Tuition: $90
Ages: 3-6 year olds AND K-5th grade
Time: 3-6 year olds 11:45-12:45pm; K-5th: 3:30-4:30pm
Session II:
TUESDAYS November 7 - December 12
[ 11/7, 11/14, 11/21, 11/28, 12/5, 12/12 ]
6 Weeks
Cost: $160
Ages: 3-6 year olds AND K-5th grade
Time: 3-6 year olds 11:45am-12:45pm; K-5th 3:30-4:30pm
When's the last time you had Ethiopian food? Or yummy Arabian, Spanish or Italian food? Guess what? Your kids can have a blast every week discovering how easy and fun it is to prepare (and love to eat!) tasty, healthy globally- inspired + American Classic Sticky Fingers Cooking recipes! Let your kids learn to love to release their inner chef!
At Sticky Fingers Cooking, our passion is helping youth discover the joys of cooking- up and sharing healthy super-tasty food to nourish their bodies and minds! (aka: turning picky-eaters into enthusiastic healthy food explorers)
Our Dedicated + Creative Crew of Chef Instructors All of our Sticky Fingers trained cooking instructors share lifetime love of cooking and a passion for cooking with kids! We have Montessori school teachers, culinary school teachers, summer camp directors, catering chefs, and graduates from Le Cordon Bleu in Paris on our talented team of kids cooking instructors. They have mastered the secrets of creatively mixing together a sense of fun and excitement as they combine the love of cooking with nutritional information, safe cooking skills and hygiene, jokes, geography, math skills and food history to help inspire a lifetime love of delicious, healthy family cooking!
www.stickyfingerscooking.com
ALLERGY NOTICE
Classes are always nut-free, any and all dietary restrictions and food allergies are accommodated; our online registration helps simplify listing of any food allergies prior to the start of the session.